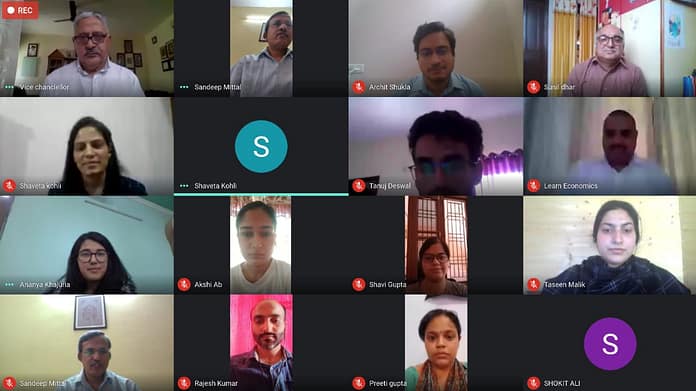 Department of Economics, Central University of Jammu organized a Webinar on Measures taken by the Government of India and RBI for the revival of the Indian Economy during the pandemic period
May 30, 2021:
Department of Economics, Central University of Jammu organized a webinar on the topic "Measures taken by the Government of India and RBI for the revival of Indian Economy during the pandemic period".
In his welcome address Prof. Sunil Dhar, Head, Department of Economics briefed about the credentials and achievements of the eminent speaker, Shree Sandeep Kumar Mittal, General Manager, Reserve Bank of India, J&K.
The invited speaker Mr. Sandeep with his rich and varied experience of more than 20 years in different verticals of Banking Sector Regulation & Supervision, International Trade & Finance, administering FEMA Rules & Regulations related to FDI/ODI/ECB and Current Account Transitions talked about measures to handle economic fallout of the pandemic. He pointed out that the severity of the pandemic is because of twin shocks of demand and supply.
Further, he emphasized the various interventions that are required in different sectors viz. employment generation, social security, debt and restructuring, sector-specific support, farmer welfare, taxation and income support, liquidity support, support to state governments, etc. for the revival of India's economic growth.
Various government initiatives viz. employment through MGNREGA, migrant labor and street vendor relief policy initiatives for health and education, agricultural infrastructure program for agriculture and related sectors, relaxation in taxation and income support through EPF, direct liquidity support to NBFCs, increase in borrowing limit for the states, etc. are some of the fiscal measures that support the revival of the economy.
He has also mentioned various measures launched by the Government of J&K to compliment the effort of the Central Government in his lecture. RBI as a central Bank has made many initiatives through intervention in liquidity support to the banking sector, policy initiative for priority sectors, restructuring, and support to MSME sector, and support to borrowing program of Centre and State Governments.
In addition, RBI has been actively pursuing digitalization of transactions for the public too. Because of these initiatives, only India showed a V-shaped recovery before the 2nd Covid wave hit the economy. Later on, in his Presidential remarks Prof. Ashok Aima, Vice-Chancellor, CUJ emphasized the requirement of stimulus in the fields of agriculture, horticulture, and other allied areas so that objectives of Atmanirbhar Bharat should be achieved on a sustainable basis.
Generation of employment opportunities is the need of an hour. Efforts are needed to relook our growth models, which would be suitable for the present Indian system. Particularly, he emphasized adopting decentralized growth models for achieving the objectives of sustainable development.
He also appreciated the efforts of the Department of Economics is organizing a webinar on the pertinent issue of revival of India's growth path. The formal vote of thanks was presented by Dr. Shaveta Kohli, Assistant Professor, Department of Economics.
Read More: