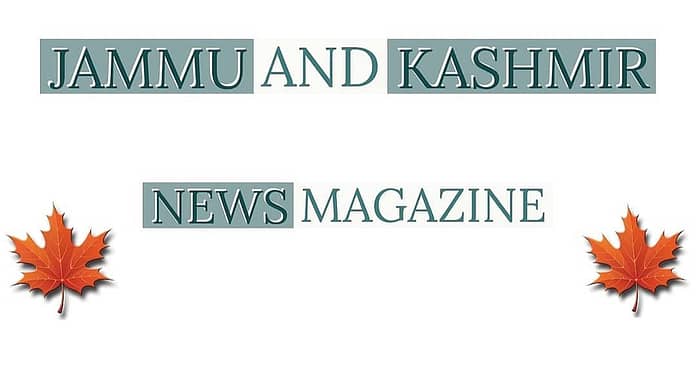 JKNews Magazine Top Headlines 
JK UT News Bulletin
J&K's first wildlife research centre at Dachigam National Park in final stages of completion.
8-Months Pregnant Doctor Continues to Work Amid COVID-19 in J&K's Kathua.
Jammu Airport handled more than 16 Lakh vaccine doses to support the fight against COVID 19
CEO Shrine Board Ramesh Kumar hands over Oxygen Concentrators to DC Reasi.
The body of a youth, who was missing after a bear attack in the Naranag area 37 days ago, was recovered in the Trangail area of the Ganderbal district.
Massive water conservation campaign launched in Dist Rajouri. 2250 works related to water conservation & management completed. 1750 more works identified &are to be taken: DC RajeshShavan.
Healthcare workers conducting COVID19 tests in various districts of J&K UT: LG Monoj Sinha.
Meet Dr. Shivani Sharma, 8-months pregnant, expectant mother who choose to serve patients amid the ongoing Covid-19 crisis. Her courage resonates with the grit of every Indian in this fight. Her contribution is beyond compare.#JandKFightsCorona#CovidWarriors #Unite2FightCorona pic.twitter.com/WYwmP9WifC

— Office of LG J&K (@OfficeOfLGJandK) June 10, 2021
Healthcare workers conducting #COVID19 tests in various districts of J&K UT. #JandKFightsCorona #CovidTesting #WeShallOvercome pic.twitter.com/U2npUN7ggI

— Office of LG J&K (@OfficeOfLGJandK) June 10, 2021
JKNews Magazine Top Headlines 
National Bulletin
Delhi govt cancels Class 9 and 11 exams. Education Minister Manish Sisodia says, results will be declared on the 22nd of this month.
Maharashtra Govt announces compensation of Rs 5 lakh each for the kin of those who died in the #MaladBuildingCollapse last night. Govt will bear the cost of treatment of all those who have been injured.
Steel Minister Dharmendra Pradhan dedicates 114 bedded COVID19 Care facility in Bhilai Steel Plant of SAIL in Chhattisgarh.
President, PM Modi, Sports Minister express grief over the demise of boxer Ngangom Dingko Singh.
India's agriculture exports registers an increase of 17.34% in 2020-21
MehulChoksi declared prohibited immigrant in Dominica.
CBI books Avantha promoter in

₹

466-crore Yes Bank fraud case.
Ahmedabad prepares for 3rd #covid wave, conducts a survey to identify vulnerable children.
The Assam government has decided to conduct the class 12 final exams July-August, the state board said on Wednesday.
India close to giving indemnity to foreign vaccine makers like Pfizer: Report
Congress leader Rahul Gandhi demanded that every person walking into a COVID19 vaccination centre should get the jab, saying those who do not have access to the internet also have the right to life.
External Affairs Minister of India S Jaishankar arrived in #Kuwait on a bilateral visit early on Thursday. According to diplomatic sources, the aim of the visit is to deepen India's ties with the oil-rich Gulf nation.
Delhi logs 305 fresh COVID cases, 44 deaths in 24 hrs; positivity rate at 0.41%.
India and South Africa's proposal to WTO for relaxation in norms of agreement on TRIPS has gathered support from a number of countries. Introduced last October, the proposal aims to ensure quick & affordable access to vaccines & medicines by developing nations: MEA Spokesperson pic.twitter.com/SbKjXo4tqm

— ANI (@ANI) June 10, 2021
JKNews Magazine Top Headlines 
National Bulletin
Myanmar: Military plane crashed near Mandalay, 12 killed.
US President JoeBiden revokes ban on Chinese apps TikTok, WeChat
US govt to pay about 1.2 billion USD for 1.7 million courses of Merck's experimental COVID19 treatment.
US President JoeBiden begins his first trip abroad after becoming President of America.
US overtakes the UK as worst for excess pandemic deaths in G7, analysis says .
Read More :